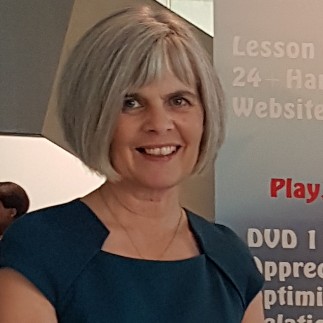 Michaela loves cycling and walking in scenic places.
She enjoys Irish set-dancing and singing in choir.
She regularly travels to Denmark and Norway, where she spent her childhood and youth, to link up with family and friends whilst promoting the skills.
In 2017 she lectured in South Africa whilst promoting her Happiness Skills book.
Michaela is the oldest of six. At the age of fifteen, a passion for wellbeing and happiness was awakened when a close family member was sent away for mental health treatment. Michaela started to explore positive spirituality and later psychology as a help to cope with life's adversities and be happy.




It was while completing a MSc in London in Applied Positive Psychology that she realised being well and happy is a result of skills that anyone can acquire.




In her book 'Happiness Skills based on Positive Psychology' Michaela details these skills. She gives courses, interviews, talks and workshops on how to apply our minds and behaviours to create an uplifting, meaningful and enjoyable life. Why accept being miserable when we can be happy so much more of our time?




After successfully teaching the skills in a Secondary school in County Wicklow she created a series of videos enabling teachers and pupils to access the skills that raise our wellbeing and help prevent anxiety, depression, low self-esteem and all the other stressful results of not knowing how to create wellness for ourselves.




Her dream is for all Secondary Schools to prioritise wellbeing and happiness for Students, Teachers and their families. When we are stressed, anxious, depressed or unhappy we simply cannot learn or be our best selves. Happiness skills can help us be our best selves and reach out to help others do the same.




Her programme is being adapted for foreign students in Universities in Canada and Japan.